About
Classes are designed after the European Education Model
Learn It, Live It!
SpoLang offers year-round intensive German and Spanish language programs for beginners and advanced students as young as three years of age.
SpoLang basic formula is, placing students in an environment dedicated solely to foreign language. The use of TPR (Total Physical Response) in all classes is not only a fun way to communicate, but also it enhances the understanding of children of all ages and backgrounds. Curriculums are designed after the European Education Model and are especially developed to utilize a child's in-born ability to acquire a second language naturally…..giving an early advantage for life.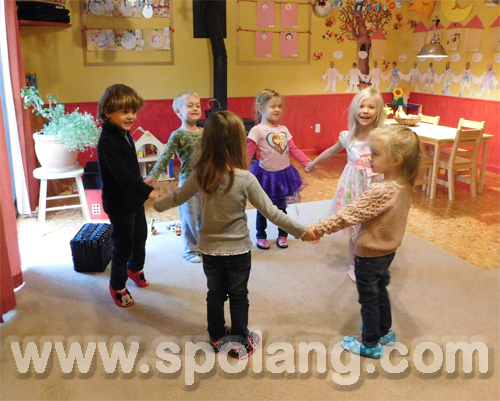 The Early

Elementary

 Programs are especially designed for children ages 3 through 5 years old. This class stimulates the German or Spanish language through circle time, themes, creative arts, crafts, games, and music.
A healthy organic snack and clarified water is provided during class.
In the  Elementary to High School Programs, Students are reading, writing, speaking, singing, playing games, and participating in movie making, drama, and puppet theater presentations all in German or Spanish. 
Convenient online material is available for enrolled students.
SpoLang creates an environment in which students literally live the language.
All classes are taught in small groups of 6-8 students.
SpoLang is setting high standards for Spokane providing a safe, warm, caring

environment with rich,

fun filled, and highly interactive classes.
You and your child will soon begin to sense what it means to learn a foreign language at SpoLang and how vibrant our programs really are.
Please call to schedule your personal tour, or for more detailed information.
I look forward to meeting you and your child in person.
Sincerely,
Frau Barnes